James Gardiner has just been GRAMMY nominated for the first ever
Music Educator Award!

Stop by to say congrats and learn from the best!
Transforming the Dream of a Music Career
Into a

Reality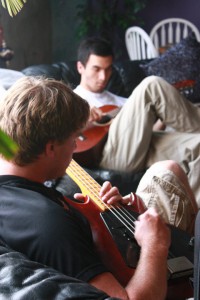 Gardiner Music Mentoring provides a unique experience: a place where students can learn, create and fulfill possibilities in the real world of performance and production.
Individual attention: One-to-one and small group mentoring to adults and youth ages 9 and older in music performance, composition and engineering.

Personalized mentorship: James Gardiner personally works with each student in a program individually tailored to his or her unique interests, goals, styles, talents and starting points.

World-class special guest mentors: Our roster of carefully selected music professionals offers supplemental lessons and relationship-building with industry professionals.

Curriculum in music performance, composition, and engineering:The unique full-immersion curriculum is designed to launch professional careers in various facets of the music industry.

Hands-on learning in a world-class recording studio:
We offer students the best of both worlds: private development plus real-world application. Instruction occurs in private sessions
and
as part of the working life of
Pajama Studios and Touch-Tone Productions
, our multi-track, analo/digital recording and producing facility in historic Jack London Square, Oakland, Calif.

Perfect for students who learn best in alternative educational settings: We know how to work with a variety of learning styles.

Ongoing education for adults: Whether you're a working professional, a beginner or somewhere in between, Gardiner Music Mentoring can set up a class or program with you to extend your knowledge of music engineering, composition, production, performance and more.

Year-round, structured units:
Morning, afternoon and/or evening sessions with milestones are offered year-round, with intensity and schedule meeting each student's needs. See options at our
Choosing Your Program
page.

Remote instruction.
Talk to us to set up remote instruction via Skype.